We Called It "Action Day" Ex-Stuff of Drawer Business; Mr.E Full Text of Testimony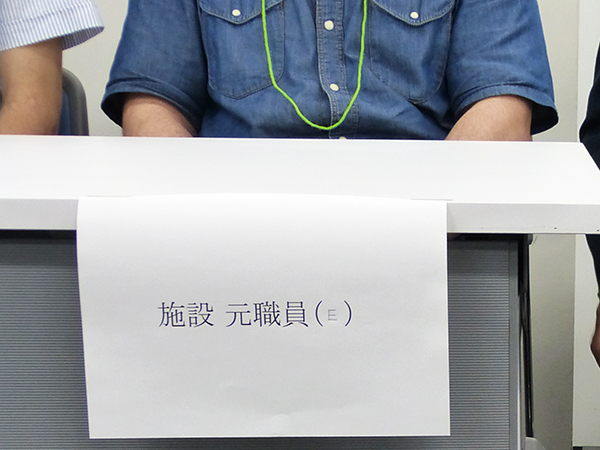 A press conference was held to inform the actual condition of "Hikikomori-Drawer" business or "violent supporting group", on 22 May in Tokyo, as you can read the more detail at another English article of ours [http://www.hikikomori-news.com/?p=1656 ]
Along with the victims, the anonymous Mr.E who was formerly working for a drawer business company, spoke out. His testimony is definitely important as an internal accusation to inform us the real situation of drawer business.
We Call It "Action Day"
Presenter: Today we also have a former employee of the drawer business company, anonymously Mr.E here. We would like him to tell you what he experienced as a stuff of one of those companies.
Former Stuff Mr.E: I was previously working for a hikikomori-drawer business companies for three months. At the beginning, I was intending to help the clients brought there because of hikikomori or domestic violence. I thought I would help them enable to get independent. But in fact, what I was ordered to do was mainly to monitor them.
Sometimes, I went outside to buy some ingredients for food or talked with clients, but any realistic support was not done there, I can say.
I was involved in drawing hikikomoris four times under the command of our president of company. I also went to the scene to take the hikikomori away without getting his or her consent, just like a kidnap.
We called it "Action Day". When I was involved, I wondered if it's a right thing to take away without one's own consent, so I asked my boss in a car while we were driving to the client's house, "Should we not persuade him in front of his parents at first? Isn't that better?". But my boss sneered and dismissed, saying, "If we did that, the target would just run away"
At another time, I asked my boss in the same way, "Have we informed the target about our coming in advance?" Then he replied, "The target will run away, so why should we?"
I was not sure if I carry on like this, so I asked my colleagues. We were talking, "This is no good. Let's make a union, which we can contest against our boss upon". Then our boss sounded like he noticed our movement, and conscientious stuff were fired one by one, and our movement to make a union has been crushed.
Shortly, also I was forced to quit by a dubious reason. I don't know if my boss was disgusted with my being there.
There Are So Many Like This
At this time, Ms. A raised a lawsuit, and I heard she wanted to save those who suffered in the same way, so I thought I could do something for it, as a man who was involved in such a kidnap or abduction.
What came out in public now is just a corner of iceberg, and there are so many drawer business companies all over this country, that is doing the same thing as kidnap and abduction, I am sure. I would like you all to know that, though this press conference.
Suffering From Depression
Presenter: In addition, I would like you to tell how you got the job.
Former stuff E: I got the job because I found a note at a branch of employment center. The note said, "Management of share house" and "Shopping".
I was suffering from depression at that time, so I couldn't do complicated work. I thought I might be able to do this, so I applied. I will add to say, the note said, "You don't have to do anything special but the management of our facility"
——————————
紙面版ご購入はこちらをクリック
ひきこもり新聞をサポートして下さる方を募集しております。詳細はこちら
更新情報が届き便利ですので、ぜひフォローしてみて下さい!
Twitter
Facebookページ